Arbireo Projektmanagement GmbH is the missing link between real estate investors and specialist service providers.
We speak the language of both the fund manager and the project developer or architect, and we combine building expertise with business management skills. For our clients in Germany and Europe we assume complete oversight of all specialist service providers, from acquisition consulting and project controlling to hand-over of a building ready for occupancy – consistently keeping investors' interests in mind. We are at home in all sectors of the property market, but our main focus is residential property.
Our services
Real estate and building sector
Whether it be revitalization, renovation, modernization or a new build – we represent your interests at the drawing board and equally on the construction site. We check, advise on the appointment of contractors and oversee your specialist service providers, from the architect and engineering office to the general or sub-contractors.
You need more help with project development that goes beyond mere project control? We will be happy to support you in all aspects of construction from purchase of the land, acquisition of building rights and obtaining building approval to coordination of construction planning – everything you need before the first sod of earth is turned.
Specialist business management acquisition evaluation
New investments require comprehensive checks on the structural and technical condition of the property, which not every investor can afford in-house. We will undertake a detailed examination for you. In the case of existing buildings we identify the problem areas. In the case of value-adding investments we estimate the building measures that will be needed. In the case of new-build projects we make a detailed inspection of the documents with regard to quality assurance. We perform technical due diligence checks and incorporate the results into the acquisition documentation.
Monitoring of construction sites
We support the whole building process from turning the first sod of earth to hand-over of a property ready for occupancy, always keeping in mind the interests of the property owner. Are all services performed in line with contractual agreements during the construction process? Intervention in good time can help avoid complications later.
Careers
Be among the best
Have we piqued your interest in a career with us? Are you also a master of the language of investors and the language of architects? Then send us your application – speculative applications also welcome.
Your contact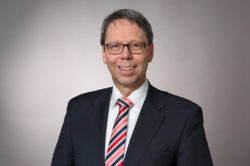 Dr. Martin Leinemann
Management Board